Club Updates January 2022

AAF Baton Rouge
AAF-BR has been hard at work for Club Achievement. Immediate Past President Barb Braud set a solid schedule early for book outlines that we shared with committees at our Board Retreat back in August. Following the outlined deadline, AAF-BR held a Club Achievement workday at a local coffee and beignet shop, so that new committee members and old ones alike could join forces to start drafting their books, get tips from one another and make progress in creating some Club of the Year quality books!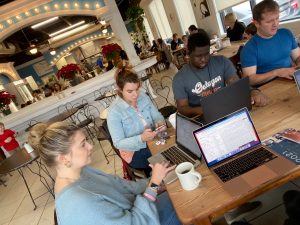 ---
AAF Birmingham
AAF Birmingham has been meeting quarterly to discuss topics that will be included in the Club Achievement books. We're currently working on the first draft of the books and aim to have them ready for submission by the first week of March.
---
AAF Mobile Bay
AAF Mobile Bay has been hard at work all year trying to make sure we offer events to membership as well as do some public service for the community. They gearing up for club achievement books and plan to enter every category this year. We have asked an at-large board member to help steer the group on meeting deadlines and helping edit. They are planning to make this a group effort this year, so every board member can help contribute and learn more about the club achievement book process!
---
AAF MS Gulf Coast
We are full steam ahead for the new year on the Mississippi Gulf Coast.
We are finalizing the details for our local American Advertising Awards.
Angela Singletary, a life and wellness coach will be speaking to our chapter later this month as part of our Programs.
Everyone is preparing for the upcoming Spring Convention. We are looking forward to seeing everyone in April.
---
AAF Tuscaloosa
It's a little too late for the good advice to start at the beginning of the year saving all possible "exhibits" into a folder for later use, but perhaps it's a note for next year!
Here are a few tactics we try to follow:
Create a folder in Basecamp (project management tool) that has everything the author of the books will need: book descriptions and requirements, last year's books, stats, ideas for each book & possible exhibits
Host a webinar with all authors to go over the basics and then collectively go over ideas for content to add in each book…she even included time for everyone to begin writing
Schedule individual Zoom meetings with each author to review his/her section of the book
For books with multiple authors, have one person write the introductions and conclusions so that the books are consistent in tone
Set timelines for drafts, editors' review/notes, and final version
Request checks from the treasurer in plenty of time to meet deadlines
---